Event Detail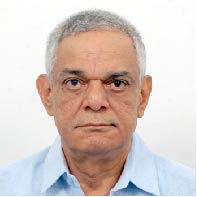 Mr Krishna Nyapati, Advisor with the Strategic Studies Group at CSTEP, passed away on 29 July 2022.
He was actively involved in the technology assessment work undertaken by CSTEP and was instrumental in providing critical inputs for developing the framework. Our heartfelt condolences to the bereaved family. In a career spanning over four decades, he worked in diverse fields including Software Development, Sales and Marketing, Quality Management, and Project Management.
He taught at various MBA colleges as guest faculty, including Jain University, Indo German Training Centre, Alliance University, and XIME Bangalore. He also authored books on Operations Management and Project Management, both for Jain University. In 2018, he founded and managed an offshore development centre, which is a subsidiary of a Swiss software company, Comitas AG.